World Leaders Flock to the Vatican to Meet with Pope Francis
World Leaders Flock to the Vatican to Meet with Pope Francis
Editorial | AdventMessenger.com
The Vatican has become the international stage for world diplomacy. The influence and power and popularity of the Jesuit, Pope Francis, has captivated the world. Presidents, monarchs, dictators, prime ministers, and other world leaders are flocking to Rome to be seen with the Pope who is quickly becoming more popular than the Socialist East and more influential than the Capitalist West.
It seems as though the world is mesmerized or "drunk" (Rev. 17:6) with the political and religious power that Rome has. Rome has become the undisputed leader - leading the world into a one-world political and religious government. Since the election of Pope Francis, everyone has been paying their respect by making the long journey to Rome to consult with him.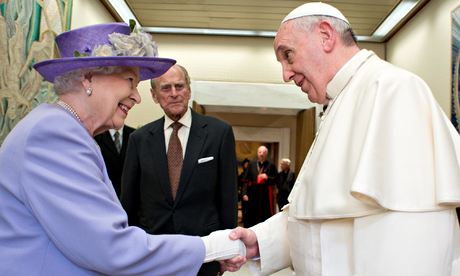 Queen Elizabeth, the "Supreme Head" of the Anglican Church visited Pope Francis on April 4, 2014. The visit was unscheduled and so very little details were made available on the private meeting they had.
President Obama, the leading figure of the industrialized, democratic world, was at the Vatican last week for his first-time visit with Pope Francis. They also had a private meeting and there were reports that the Pope shared his thought and concerns with President Obama.
And just last year Russian President Vladimir Putin, former top KGB member and a symbol of old-style Communism, was at the Vatican to try to help improve relationships between the Russian Orthodox Church and the Roman Catholic Church.
There is no doubt that the path to Rome is a well worn path used by the heads of state and church dignitaries. Regardless of what their motives might be, it seems to be the popular thing to do.
Yet Bible prophecy tell us of the inner workings of political and religious leaders and reveals that there are steps being made for the control of the world. And in the end, we know that Rome will dominate the geopolitical landscape.
"And there came one of the seven angels which had the seven vials, and talked with me, saying unto me, Come hither; I will shew unto thee the judgment of the great whore that sitteth upon many waters: With whom the kings of the earth have committed fornication, and the inhabitants of the earth have been made drunk with the wine of her fornication." Revlation 17:1-2.
Labels: Editorial, Pope Francis, Protestant Churches, Roman Catholic Church, United States