Vatican to debate teachings on divorce, birth control, gay unions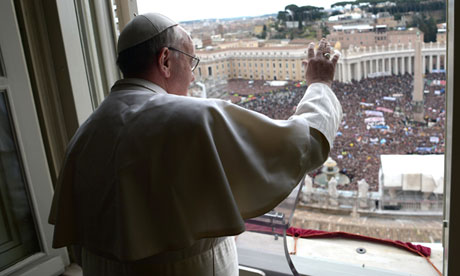 LA Times | April 30, 2014
Contraception, cohabitation, divorce, remarriage and same-sex unions: They're issues that pain and puzzle Roman Catholics who want to be true to both their church and themselves.
Now those issues are about to be put up for debate by their leader, a man who appears determined to push boundaries and effect change.
On
Pope Francis
' orders, the Vatican will convene an urgent meeting of senior clerics this fall to reexamine church teachings that touch the most intimate aspects of people's lives. Billed as an "extraordinary" assembly of bishops, the gathering could herald a new approach by the church to the sensitive topics.
The run-up to the synod has been extraordinary in itself, a departure from usual practice that some say is a mark of the pope's radical new leadership style, and a canny tactic to defuse dissent over potential reforms.
Within a few months of his election last year, Francis directed every diocese in the world to survey local attitudes on family and relationships and report back to the Vatican, a canvassing of a sort that few of the faithful can recall previously. The results are being tallied and synthesized behind the walls of the Vatican.
Hardly anyone expects the pope to propose sweeping changes to Catholic doctrine at the synod in October despite widespread criticism that the modern world has left the church behind. Indeed, Francis has unequivocally upheld heterosexual marriage and procreation as God's established, sanctified ideal.
But liberal reformers have been excited by the Vatican's shift in tone under Francis. His remark regarding gays, "Who am I to judge?" has gone viral, as has his warning to the church not to obsess over "small-minded rules" and contentious subjects such as abortion.
So, although Francis almost certainly will not call for ditching the church's policy of denying communion to Catholics who have divorced and remarried, his emphasis on pastoral care and compassion could offer local priests a work-around, with greater flexibility to address individual circumstances. That would fit with the pope's vision of the church.
Source:
http://www.latimes.com/world/europe/la-fg-vatican-family-20140430,0,6157008.story#ixzz30nuyxaRU
Labels: Gays-Lesbians-Transgender, Pope Francis, Roman Catholic Church